The Palms' mood evoking design and furniture seeks to transport guests to the antebellum era of majestic tropical estates where lazy afternoons were spent rocking on the porch or sipping mint juleps with friends. Yet your technological needs are also one of our top priorities. Each guest room is equipped with a work desk, internet access and two phones. A self-service business center features two computer terminals, laptop station, pay telephone, fax, laser printer and copier. The lobby also houses The Palm Collection, a gift shop resulting from the resort's alliance with renowned South Florida botanic garden, Fairchild Tropical Garden.
In-room Amenities:
• Individually controlled Air Conditioning
• Ceiling fan CD alarm clock
• Two telephones - one cordless one stationary with speaker phone, voicemail and dual data ports
• High-speed internet access via cable TV
• Complimentary cable TV
• On-demand movies
• In-room safe
• Fully stocked private bar
• Full bathroom facilities with spa toiletries
• Hair dryer
• Iron and ironing board
• Bathrobes
Business Facilities:
• 24-hour self-service business center
• On-site ATM machine
• Over 10,000 sq ft of meeting & exhibition space
Leisure Facilities: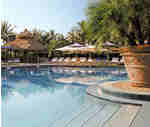 • Lush tropical gardens that connect directly to the beach and the Atlantic Ocean
• Freshwater swimming pool
• Beach service with sun lounges, umbrellas,towels and drinks service
• On-site fitness room
• Water sports available on the beach nearby
• Tennis and golf courts within close proximity
• Scuba diving, boat rental and deep-sea fishing offered at Miami Beach Marina 15 minutes South of the resort.
Other Services:
• Valet Parking
• Laundry valet
• In-room dining
• Twice daily maid service
• In-room dining
• Gift Shop operated by Fairchild Tropical Garden, featuring a unique collection of items for home and garden, palm-themed gifts, hotel souvenirs, sundries, etc.
A dedicated team of experienced concierges handle virtually every request - whether for groups or individual guests: Dinner and theater reservations, sightseeing advice and arrangements, baby sitters, car rental and airline ticketing, boat excursions, sports tickets, flowers, laundry/valet services, medical situations. For enquiries, please contact the concierge team directly at concierge@thepalmshotel.com
---
Dining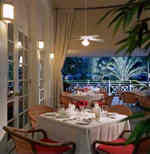 Enjoy continental breakfast in the Great Room, a library-inspired lounge, boasting a centerpiece of magnificent palm trees, the hotel's trademark. Dine indoors or outdoors at The Palm Garden Grille, serving Mediterranean cuisine and Florida's freshest seafood; alternatively, the poolside Tiki Bar & Grill serves light fare and drinks throughout the day. For cocktails and conversation, try the stylish Veranda Bar and enjoy occasional live entertainment at night. Room service is available daily from 6:00 am until midnight.
The Palm Garden Grill
The Palm Garden Grille offers alfresco dining on its vast poolside terrace, or within its greenhouse-style interiors offering casual-elegant ambiance. The cuisine is Mediterranean-inspired and features an abundance of fresh Florida seafood. Highlights include our fabulous Friday Seafood Night, offering an impressive buffet of Florida's freshest seasonal seafood, including lobster tails and stone crabs. Reservations are strongly recommended.
Veranda Bar
The Veranda Bar features an indoor/outdoor configuration with views of the resort's lush tropical gardens. Seating is cozy chic with tan leather banquettes and chocolate brown velvety upholstered chairs lending a warm and sophisticated mood to the space. Weekly entertainment is provided by noted jazz and R&B performer Nicole Henry, in conjunction with The Palms' Thursday Happy Hour, featuring 2-for-1 drinks and complimentary hors d'oeuvres from 5:30 to 8:30 p.m., and musical performances from 6:30 to 10:30 pm. Valet parking is just $5.
Tiki Bar Grill
The lush tropical gardens at The Palms will transport guests away from the hustle and bustle of city life and connect directly to Miami's Boardwalk, the beach and Atlantic Ocean. The poolside Tiki Bar, with its refreshing cocktails, specialty rums and light casual fare for lunch or early dinner, offers the ideal setting for days of lazing in the South Florida sun.